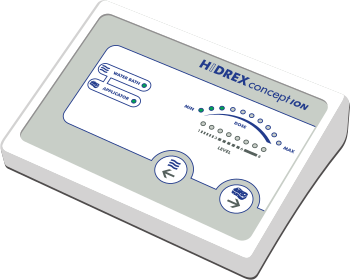 Available from spring 2020
The HIDREX conceptION is fitted with an innovative treatment concept. The HIDREX conceptION can be easily and intuitively operated thanks to an automation concept. The optimal treatment parameters of time, dose and current type are automatically recognised by the device, thus greatly facilitating the adjustment of the device before starting treatment. The treatment course is carried out fully automatically and adapted to your sensitivity to currents via 8 levels which can be adjusted.
The HIDREX conceptION , as with the HIDREX connectION, features app connectivity via Bluetooth.
The HIDREX conceptION is fitted with direct current (DC) and pulsed current as standard and the MyHIDREXApp can optionally be used to enable variable pulsed current (VPC) and automatic polarity change. As such, you can expand your treatment options in an individually tailored fashion.
The HIDREX conceptION is, like all of our TWI devices, fitted with various protection circuits.