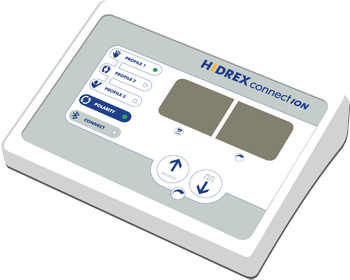 With the HIDREX connectION, you can use 3 different types of current for optimal treatment of your hyperhidrosis. direct current (DC), pulsed current (PC) or variable pulsed current (VPC).
Moreover, with HIDREX connectION you can turn on an automatic polarity change, ensuring a more consistent treatment outcome on both sides from the very first treatment session. You therefore do not need to reverse the current direction after each treatment session.
The treatment parameters are clearly shown on the backlit display and there are 3 user storage banks. As such, the therapeutic dose, current type, pulse-width and treatment time can be stored for 3 different treatment areas or users. The therapeutic dose can be set up to 60V / 30mA.
The HIDREX connectION can connect with your smartphone via Bluetooth and then be conveniently controlled with our MyHIDREXApp.
The HIDREX connectION is, like all of our TWI devices, fitted with various protection circuits.