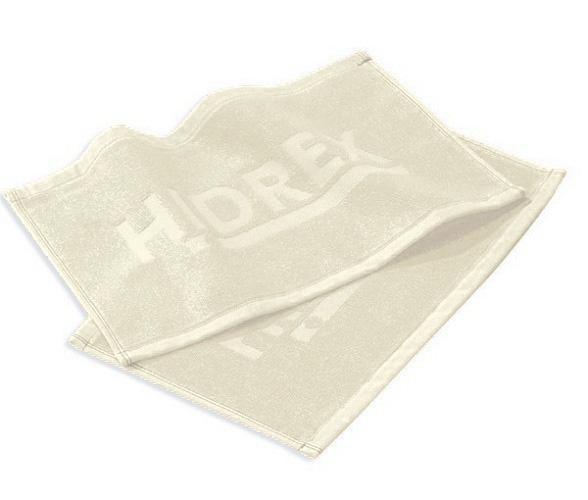 Standard: Treatment cloth
The pre­cise­ly fit­ting treat­ment cloths offers opti­mum com­fort dur­ing ion­tophore­sis treat­ment (no "impres­sions" of grids or sim­i­lar). The tow­els are used to cov­er the hand / foot elec­trodes com­plete­ly in the treat­ment of the hands or feet, as direct skin con­tact must be avoid­ed.
The 100% cot­ton tow­els are machine wash­able at 90°C. The very hard-wear­ing tow­els have a long ser­vice life.
Scope of deliv­ery: 1 pair (2 pcs.)
mate­r­i­al: 100% cot­ton
Col­or: beige (nat­ur­al cot­ton) with HIDREX logo
Dimen­sions: 32 x 18.5 cm
Tip: Work with 2 pairs of treat­ment cloths. You can use one pair for your ther­a­py and wash the sec­ond pair with your clothes reg­u­lar­ly.
This acces­so­ry is com­pat­i­ble with all HIDREX ion­tophore­sis devices and can be com­bined with all hand / foot treat­ment elec­trodes in ergonom­ic treat­ment tray or hard shell treat­ment-cas­es.
In the deliv­ery state, the treat­ment cloths are slight­ly larg­er than the ergonom­ic treat­ment tray, since the mate­r­i­al enters about 5% with the first wash.
Optional: Therapy grids

The ther­a­py grids offer bet­ter dis­in­fec­tion options com­pared to the treat­ment cloths and are there­fore par­tic­u­lar­ly suit­able for the ther­a­py of the hands or feet in med­ical prac­tices.
Other iontophoresis accessories: