With HIDREX TWI Devices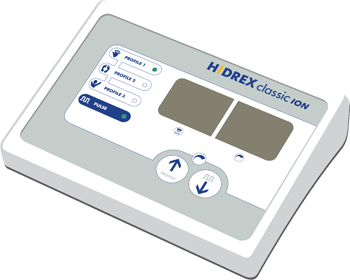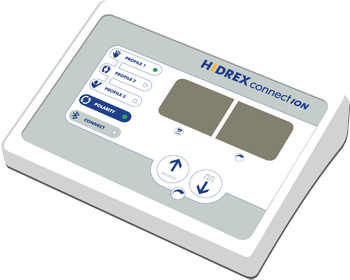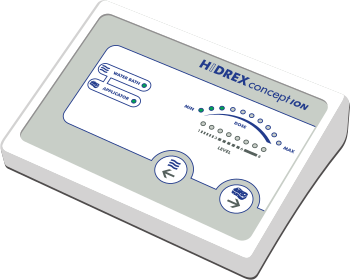 • Classic tap water iontophoresis with
conventional direct and pulsed current
• 3 programmable profiles
• Treatment time: 15 min.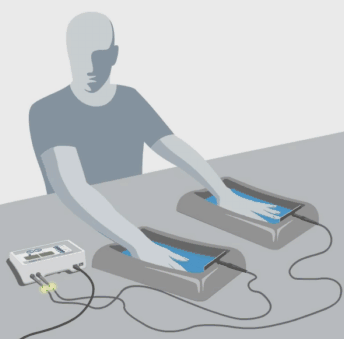 • Intuitive operation via App with language control
• Support options via App
• Creation of therapy protocols
• Automatic polarity switching
• Variable Pulsed Current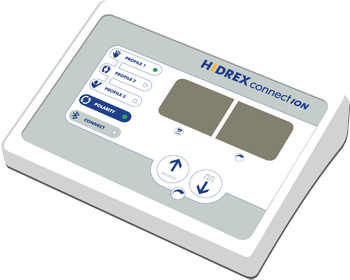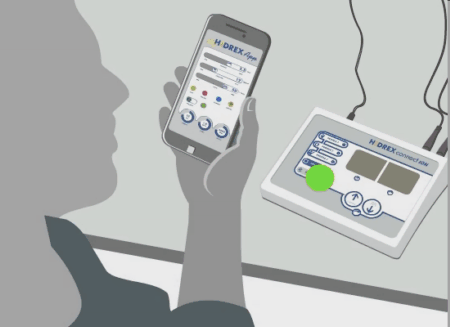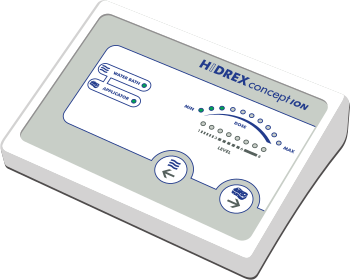 • Recognition of your optimal treatment parameters
• Intuitive operation with automatic concept
• Automatic treatment to your perception in 8 levels
• Individually configurable by unlocking
Variabe Pulsed Current and automatic polarity switching
• APP-connectivity
Comfortably and safely treat excessive sweating with Hidrex iontophoresis devices
With the new HIDREX device models, tap water iontophoresis treatment can be performed easy and intuitive.
Our therapy sets are available in two basic configurations: either HF (hand/foot) or AX (for "axillary", i.e. the armpits). With the HF version, you can choose between aluminium- or stainless steel-electrodes. Special applicators also make it possible to treat the face, the neck or the back.
All Hidrex TWI devices can be switched between direct current (DC) or pulsed current (PC). The HIDREX connectION is standardly equipped with variable pulsed current (VPC) to adjust the efficiency and compatibility of the pulsed current. With the HIDREX conceptION variable pulsed current (VPC) can optionally be unlocked via MyHIDREXApp.
All iontophoresis devices from HIDREX have the following technical features:
• Operation via App with language control
• Support options via App for therapy optimization
• Recognition of your optimal treatment parameters
• Fully automatic therapy procedure
• Effective current types
• Variable pulse current setting
• Powerful devices, up to 60V and 30 mA
• High safety through protective circuits
• ASE – anti shock electronic
• Protection against over-treatment
• Immersion monitoring
• Operation without assistance
• Timer function
• Intelligent microprocessor control