IMT procedure: pulsating magnetic field, variable frequency
The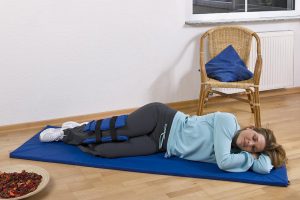 unique IMT pro­ce­dure pro­duces a pul­sat­ing mag­net­ic field with vari­able fre­quen­cy which is also pul­sat­ed at a fixed beat. The spe­cial fea­ture is the com­bi­na­tion of a pulsed basic sig­nal and a super­im­posed oscil­lat­ing (pul­sat­ing) treat­ment sig­nal. As com­mon­ly known with MRIs, mag­net­ic fields can pen­e­trate the human body, all the way down to the indi­vid­ual cell.
Natural method
Induc­tive mag­net­ic field treat­ment is a nat­ur­al and gen­tle method. IMT is a sim­ple, pain-free, and drug-free pro­ce­dure.
Treatments using IMT devices
Thanks to the inte­grat­ed auto­mat­ic pro­grams, the use of the Hidrex mag­net­ic field treat­ment devices is straight­for­ward and can be con­trolled by patients them­selves
at home, work, or wher­ev­er they feel com­fort­able.
All IMT sys­tems are high-qual­i­ty, robust com­plete sets, easy to trans­port, and ready to use in min­utes. All IMT con­trollers can be com­bined with oth­er appli­ca­tors.
We offer treat­ment sys­tems for pro­fes­sion­al and home use.