IMT procedure: pulsating magnetic field, variable frequency
The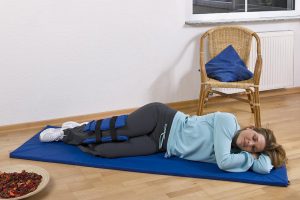 unique IMT procedure produces a pulsating magnetic field with variable frequency which is also pulsated at a fixed beat. The special feature is the combination of a pulsed basic signal and a superimposed oscillating (pulsating) treatment signal. As commonly known with MRIs, magnetic fields can penetrate the human body, all the way down to the individual cell.
Natural method
Inductive magnetic field treatment is a natural and gentle method. IMT is a simple, pain-free, and drug-free procedure.
Treatments using IMT devices
Thanks to the integrated automatic programs, the use of the Hidrex magnetic field treatment devices is straightforward and can be controlled by patients themselves
at home, work, or wherever they feel comfortable.
All IMT systems are high-quality, robust complete sets, easy to transport, and ready to use in minutes. All IMT controllers can be combined with other applicators.
We offer treatment systems for professional and home use.