Low-level laser therapy (LLLT)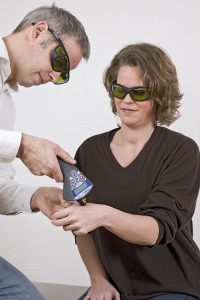 In contrast to so-called hard lasers, which are used in surgery or by aestheticians to remove hair or tattoos, LLLT does not damage the tissues, but instead invisible infrared laser light (IR) or visible laser light is used to stimulate the tissue. The medical effects of these low power lasers, such as Endre Mester and many after him have observed, are often referred to as biostimulation.
HIDREX MPL laser therapy
The Hidrex laser concept is based on over 20 years of experience and enables the application of new and alternative methods. The Hidrex therapy lasers are powerful pulse diode lasers or continuous wave diode lasers. They are available with wavelengths of 904 nm, 808 nm, and 660 nm. High-performance batteries and the compact design ensure a high degree of mobility. The intelligent treatment software makes them easy to use. The consistent implementation of the latest technology offers maximum operational reliability with a large range of functions and high frequency accuracy.
We offer the Hidrex therapy laser with the MPL 300 and the MPL 500 in two variants.
Progress through laseracupuncture
Laser acupuncture is based on conventional acupuncture with needles, but offers the advantage of painless and non-invasive stimulation of the acupuncture point. The modulation frequencies integrated into the Hidrex therapy lasers effectively target the meridians for the long term.