Low-level laser therapy (LLLT)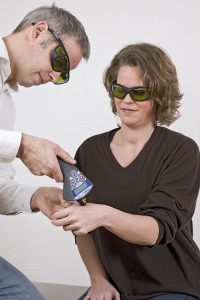 In con­trast to so-called hard lasers, which are used in surgery or by aes­theti­cians to remove hair or tat­toos, LLLT does not dam­age the tis­sues, but instead invis­i­ble infrared laser light (IR) or vis­i­ble laser light is used to stim­u­late the tis­sue. The med­ical effects of these low pow­er lasers, such as Endre Mester and many after him have observed, are often referred to as bios­tim­u­la­tion.
HIDREX MPL laser therapy
The Hidrex laser con­cept is based on over 20 years of expe­ri­ence and enables the appli­ca­tion of new and alter­na­tive meth­ods. The Hidrex ther­a­py lasers are pow­er­ful pulse diode lasers or con­tin­u­ous wave diode lasers. They are avail­able with wave­lengths of 904 nm, 808 nm, and 660 nm. High-per­for­mance bat­ter­ies and the com­pact design ensure a high degree of mobil­i­ty. The intel­li­gent treat­ment soft­ware makes them easy to use. The con­sis­tent imple­men­ta­tion of the lat­est tech­nol­o­gy offers max­i­mum oper­a­tional reli­a­bil­i­ty with a large range of func­tions and high fre­quen­cy accu­ra­cy.
We offer the Hidrex ther­a­py laser with the MPL 300 and the MPL 500 in two vari­ants.
Progress through laseracupuncture
Laser acupunc­ture is based on con­ven­tion­al acupunc­ture with nee­dles, but offers the advan­tage of pain­less and non-inva­sive stim­u­la­tion of the acupunc­ture point. The mod­u­la­tion fre­quen­cies inte­grat­ed into the Hidrex ther­a­py lasers effec­tive­ly tar­get the merid­i­ans for the long term.