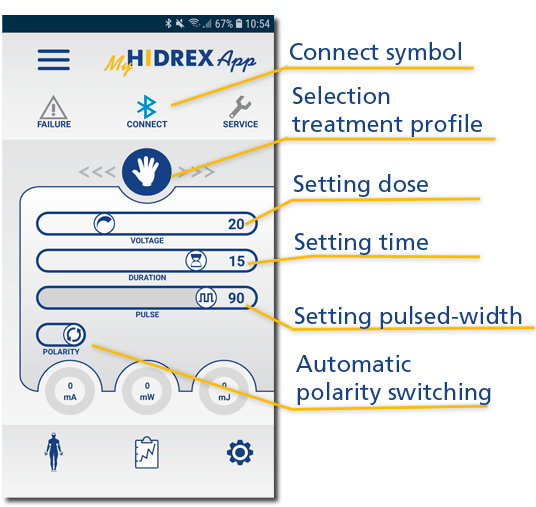 MyHIDREXApp - more possibilites, more comfort
Oper­ate your HIDREX con­nectION or HIDREX con­ceptION sim­ply and intu­itive­ly with our MyHIDREXApp! A con­nec­tion is make via Blue­tooth.
With the app the treat­ment para­me­ters time, dose and type of cur­rent can be set, the auto­mat­ic polar­i­ty switch­ing can be set ON/OFF, and pro­files are pro­gram­ma­ble.
Addi­tion­al func­tions such as the cre­ation of ther­a­py pro­to­cols, sup­port options and lan­guage con­trol are planned and will enhance your ther­a­py. With the HIDREX con­ceptION addi­tion­al fea­tures like vari­able pulsed cur­rent and auto­mat­ic polar­i­ty switch­ing can be acti­vat­ed.
You can down­load the MyHIDREXApp direct­ly to your smart­phone here or you can have the file MyHIDREXAp.apk sent to you by e‑mail or What­sApp from us. You will find infor­ma­tion on down­load­ing direct­ly on this page. These can also be request­ed via What­sApp.
We are look­ing for­ward to your feed­back: If there are any prob­lems with your app, please send a screen­shot and infor­ma­tion about your screen res­o­lu­tion and device mod­el to our What­sApp cus­tomer ser­vice.
Ver­sion: V2.3:
Set­ting of time, dose, pulse width
Acti­va­tion of auto­mat­ic polar­i­ty switch­ing
Pro­gram­ming treat­ment pro­files