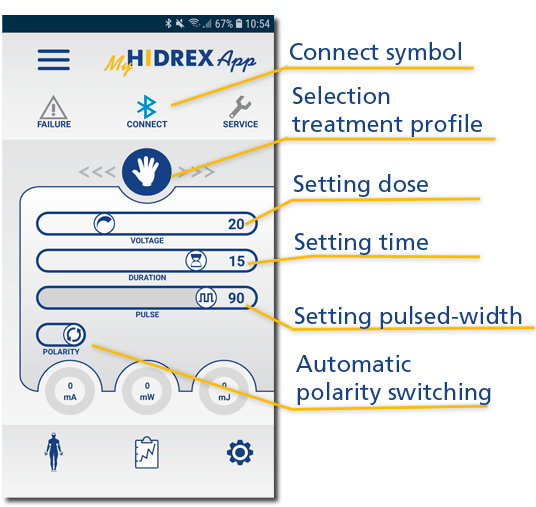 MyHIDREXApp – more possibilites, more comfort
Operate your HIDREX connectION or HIDREX conceptION simply and intuitively with our MyHIDREXApp! A connection is make via Bluetooth.
With the app the treatment parameters time, dose and type of current can be set, the automatic polarity switching can be set ON/OFF, and profiles are programmable.
Additional functions such as the creation of therapy protocols, support options and language control are planned and will enhance your therapy. With the HIDREX conceptION additional features like variable pulsed current and automatic polarity switching can be activated.
You can download the MyHIDREXApp directly to your smartphone here or you can have the file MyHIDREXAp.apk sent to you by e-mail or WhatsApp from us. You will find information on downloading directly on this page. These can also be requested via WhatsApp.
We are looking forward to your feedback: If there are any problems with your app, please send a screenshot and information about your screen resolution and device model to our WhatsApp customer service.
Version: V2.3:
Setting of time, dose, pulse width
Activation of automatic polarity switching
Programming treatment profiles