HIDREX iontophoresis offers effective hyperhidrosis treatment using different types of electricity:
Direct cur­rent (DC)
Pulse cur­rent (PC)
Vari­able pulse cur­rent (VPC)
Direct current (DC)
Con­ven­tion­al direct cur­rent (DC) has the strongest effect because its out­put is 100% with­out paus­es. How­ev­er, over­sen­si­tiv­i­ty to the cur­rent flow some­times means using DC at too low a dose or not at all on sen­si­tive skin areas. DC is still used to treat the feet.
Pulse current (PC)
With con­ven­tion­al pulse cur­rent (PS), the cur­rent flow jumps at equal­ly long inter­vals between ON (50% pulse) and OFF (50% pause). These inter­vals alter­nate at a fre­quen­cy that avoids the feel­ing of elec­tri­cal cur­rent known from oth­er devices. How­ev­er, the paus­es make PC less effec­tive than DC.
In the treat­ment of sen­si­tive skin areas, how­ev­er, the PC is def­i­nite­ly the bet­ter choice.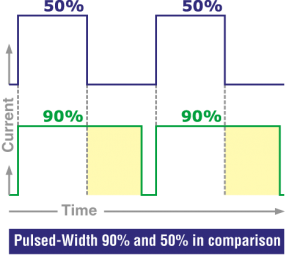 Variable pulse current (VPC)
The vari­able pulse cur­rent (VPC) can be described as a mix­ture of DC and PC, which com­bines the best of both types of cur­rent. With VPC, it is pos­si­ble to extend the ON-phas­es com­pared to the OFF-phas­es with­in a cycle (e.g. 90% pulse, 10% break). The pulse range can be set, allow­ing for a more pre­cise def­i­n­i­tion of the type of cur­rent. The short­er pause times trans­mit much more ener­gy than the stan­dard pulse cur­rent.
This abil­i­ty to adjust the pulse range increas­es the effec­tive­ness com­pared to the con­ven­tion­al pulse cur­rent AND the com­fort com­pared to DC cur­rent. VPC is thus the most effec­tive form of cur­rent and allows opti­mal con­sid­er­a­tion of the indi­vid­ual needs and sen­si­tiv­i­ties of patients. For the treat­ment of chil­dren and of sen­si­tive skin areas in adults, VPC is the best choice.
Further information on hyperhidrosis treatment with HIDREX iontophoresis: